Great Gift Ideas for Your Bridal Party
A wedding day is special partly because of the people who gather together to honor and celebrate the bride and groom. Without friends and family to share in the love and commitment the couple wishes to make, there would be little fanfare. Brides often show their appreciation to their bridal parties by giving each woman a special gift to commemorate the day. There are many options when it comes to appropriate gifts for the women who have dedicated time, money and support to be a part of a bride's special day. Some bride's choose fun, stylish gifts that her girls can wear out on the town, like wholesale jewelry, while other bride's opt for something more sentimental or personal. The options are as varied as the bride herself.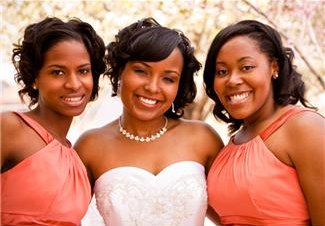 Gift Baskets
Gift baskets make fun, attractive gifts. Brides can choose a theme and fill a basket full of as many related items as they can think of. A pampering theme might include luxurious body lotion, bubble bath, pedicure supplies and silk pajamas. A movie-themed basket could include bags of microwave popcorn, candy and a gift card to a local theater. Other themes could be cooking or baking, gardening or the beach. Top it off with some tissue paper, flowers or bows and the gift is complete.
Personalized Items
The sentimental bride might choose to honor her friends with something a little more personal. She could frame a special picture of herself with each bridesmaid and include a short note about how much their relationship means to her. Crafty brides could make special items like knitted scarves, painted vases, beaded jewelry or baked goods.
Jewelry
A bride can't go wrong
buying wholesale jewelry for her bridesmaids
. She can pick unique pieces to highlight the best assets of each of her friends. Perhaps she could even choose pieces that coordinate with the bridesmaids' dresses. If desired, she can choose more casual pieces for her friends to wear on a day-to-day basis. The bridesmaids will no doubt appreciate the extra thought that goes into each selection.
Gift Cards
Gift cards truly make a special gift because the bridesmaid can choose when to spend and what to buy. Brides might choose an upscale restaurant, a favorite boutique or another specialty shop that the bridesmaids might not typically frequent. To get a little creative with the packaging, brides might slip a restaurant gift card inside a pretty apron or include a few recipe cards handwritten with her favorite recipes with a gift card for a store that sells cooking supplies. Other ideas include cute workout clothes and a gift certificate to a local fitness center or a box of decadent chocolates and a gift card to the bakery where they were purchased.
Stephen Craig is a part of an elite team of writers who have contributed to hundreds of blogs and news sites. Follow him @SCraigSEO.
---
More to Read:
comments powered by

Disqus