Fantastic Valentine's Gifts for the Man in your Life
Men can often be a little neglected on Valentine's Day, with women taking much of the limelight when it comes to receiving gifts. However, the special man in your life deserves to be treated too – and here are a few fantastic gifts which could show him just how much you appreciate all he does.

E-book reader

For a man who likes to read but is still carrying heavy, old fashioned paperbacks around with him, an e-book reader is certainly worth considering. It is an electronic reading device that allows you to download and store hundreds or thousands of books – making it both practical and convenient. Most men love a good gadget too! Amazon has produced its new Kindle Fire e-book reader as a type of tablet computer to boost functionality further.

Experience days

For adventurous types, a weekend of stock car racing or driving a Formula One car might be everything your man ever wanted. Few men could resist the urge to tear a car around a race track at dangerous speeds and there are plenty of suitable options from Red Letter Days.

Professional clothing

For a more traditional gift for the man who works in an office during the week in an environment in which he is expected to dress formally, then a nice silk tie could be an ideal gift. It will be stylish, practical and remind him of you while he's at work, making it the perfect choice for a gent who dresses to impress.

There are always dangers with choosing clothes for a loved one however, so try to stick with something in a similar style to what he already wears. If price is no limit then why not take a look at celebrated brands such as the Savile Row Company for superior tailoring?

Jewellery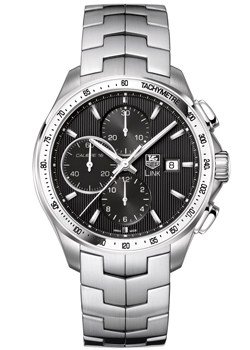 Jewellery isn't just a suitable gift for women; it's also a great way to show men how much you care. Some men rarely spend money on jewellery for themselves, so Valentine's Day provides a great opportunity for you to surprise him with something special.

Cufflinks from make a practical and elegant gift and come in a great range of styles. Displayed in a beautiful presentation box, this is a practical gift which can be worn every day in the office or reserved for special family occasions such as weddings.

Alternatively, a luxurious watch by a leading manufacturer such as TAG Heuer is sure to go down well.

Goldsmiths have an extensive range of their watches on sale with options from TAG Heuer's Link range being especially popular. We particularly like this Chronograph Gents Watch which combines a stainless steel strap and case with a black dial covered in scratch-resistant Sapphire crystal glass.
---
More to Read:
comments powered by

Disqus