Garmin Fenix Overview - The New Watch That Offers GPS on the Wrist
The Garmin Fenix is Garmin's first wristwatch for the serious outdoor enthusiast. It offers the most comprehensive in navigation features courtesy of the famous Garminn brand and has been developed in co-operation with professional mountaineers. The new Garmin Fenix comes with built-in altimeter, barometer and compass – all in a digital format accessible via the easy to read display.
The watch's built-in GPS sensors provide information about the course, altitude and barometric pressure. Thanks to Garmin GPS technology, this hands-free navigation device gives outdoor enthusiasts the confidence to navigate through rough terrain such as the Alps, all the way to the top and back to their base. With a classic round watch design with a solidly designed casing and scratch-resistant display, the watch is built to withstand the toughest outdoor challenges, while it can be used as a fashionable digital watch.
Plan Trips and Navigate Using the Garmin Fenix GPS Watch
Garmin Fenix is a comprehensive navigation tool that allows you to plan trips, create routes and save waypoints. Outdoor enthusiasts can navigate to GPS coordinates along a track or route, or along any chosen course. A pointer provides clear directional guidance, and Garmin's groundbreaking Track Back feature can guide you safely home using a good visible trace line on the screen that is easy to follow. This gives climbers, hikers and outdoor enthusiasts the self-confidence and assured feeling that they can achieve their ambitious goals.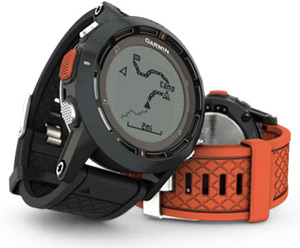 Using Basecamp PC software, users of Garmin Fenix can easily plan and share their adventures with friends and family. The Garmin Fenix GPS watch has world-wide basemaps with views of all the towns nearby. Fenix supports both ANT functions and Bluetooth, so you can wirelessly share tracks, waypoints, routes and geo caches with other compatible Garmin devices. The Basecamp app for smart phones means that you can easily transfer waypoints and track logs and see them along your way to a more detailed map, and a larger screen on selected smart phones via wireless connectivity.
Altimeter, Barometer & Compass Functions
Garmin Fenix is equipped with ABC sensors (altimeter, barometer, and compass), so it can provide the user with relevant real-time information. The built-in altimeter shows elevation, so you can accurately keep track of the ascent and descent.
The barometer may indicate upcoming weather changes by showing a short-term trend in air pressure, while a tri-axial electronic compass keeps you on track, whether you are moving or not. Using the GPS receiver , Garmin Fenix automatically calibrates its ABC sensors and also sets the clock using GPS positioning. Paired with Tempe, Garmin's new external temperature sensor, the Fenix is Garmin's first outdoor watch that gives an accurate measurement of the temperature wherever you are on your adventure.
Measure Your Performance with Garmin Fenix
The GPS technology in the Garmin Fenix offers active outdoor people comprehensive monitoring of their performance in real time. With the Auto Lap function and data for key parameters such as distance, vertical speed and pace, ambitious alpine enthusiasts can keep track of their progress during their outdoor training or other fitness activities. Garmin Fenix is also compatible with Garmin's famous heart rate monitors to measure heart rate data or with a cadence sensor for measuring distance, speed and cadence of the ride. All data fields in the display can be customized directly on the wrist.
Built to Withstand Harsh Environments
Garmin Fenix is built to withstand the toughest outdoor conditions and combines a high-strength casing that can withstand shocks, with hardened mineral glass that resists scratches. Fenix has a large LCD display with LED lighting and a sturdy strap made from polyurethane. The Garmin Fenix is water resistant to 50 meters. With GPS in active mode, the Fenix up to 16 hours of battery life, or up to 50 hours when GPS is switched off. General watch functions include alarms, tones, vibrational alarm, timer, stopwatch and world clock with the ability to display multiple time zones simultaneously.
Fenix is the latest addition from Garmin's growing outdoor segment, which focuses on developing technologies and innovation, and helps to improve users' outdoor experiences. Whether it's golf, mountain climbing, hiking, skiing, hunting or geo caching, Garmin outdoor products essential tools for outdoor enthusiasts at all levels.
The Garmin Fenix expected to be available in stores this fall for a suggested price of $299 US Dollars and the equivalent in Euros.
Thanks To: This technical overview of the Garmin Fenix was brought to you courtesy of Peter B who runs his own independent review website of this awesome GPS-enabled outdoor watch. On his website you can also get the Garmin Fenix best price offers should you wish to purchase later in the year.
---
More to Read:
comments powered by

Disqus