5 Fantastic Christmas Gifts for Grandma
Grandma deserves the world. Without her you wouldn't exist, so it's important to treat her well. Most people don't get round to visiting their Grandma as much as they'd like, so what better way to make it up to her than buying an extra special present.
This can be achieved on budget, or if you're willing to spend a bit extra, buy something amazing and bring joy to her day. Though the likelihood is she'll be pleased regardless of what you buy, by offering something impressive, this goes a long way to showing how much you appreciate everything she's done, and how much you love her.
With this being said, buying a gift for Grandma is no easy feat. If there is a disconnect between you because of the generation gap, any inspiration for gift ideas goes a long way to helping you make a decision. One piece of advice I would give before getting to the crux of this article, is to purchase well in advance. This gives you time to find something personal online that she'll cherish, as opposed to rushing at the last minute and picking up an insignificant gift in store.
This article has compiled some fantastic gift ideas for Grandma, which will help you on route to making her Christmas extra special. By browsing the suggestions below, hopefully you'll discover something special for her to sink her dentures into!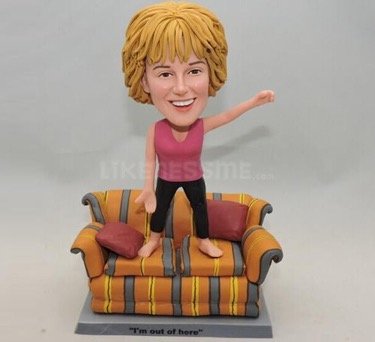 The personalized bobblehead is a unique concept sure to leave Grandma bamboozled. By submitting a photo of Grandma to LikenessMe.com, they'll work on hand-crafting an impressive figurine that's a perfect resemblance of Grandma! She'll certainly appreciate the effort you've gone too with this wonderful gift, and this is probably my favorite option. Bobbleheads are a cool novelty, but what's better about this original idea is the bespoke nature of the product. If you feel as if Grandma would love to receive a bobblehead, visit Soufeel.com today! You could even submit a photo of yourself, so she receives a bobblehead that reminds her of you.
NixPlay's Updating Photo Frame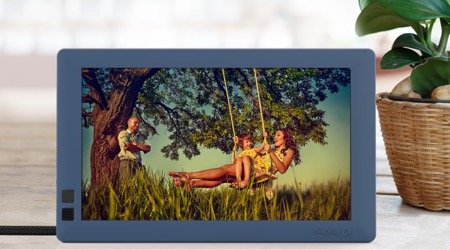 Grandparents love photos of their Grandchildren, so what better way to facilitate their preference than buying an updating photo frame! You may have to spend some quality time teaching them how to use the device, but once Grandma is used to it, she'll be able to navigate through photos from Facebook, allowing the observation of new photos with little effort. The foolproof interface makes it easy for Grandma to view up to date photos of you, and anyone else she cares about, meaning if you don't visit her as often as you could, she'll at least be made aware of your latest appearance!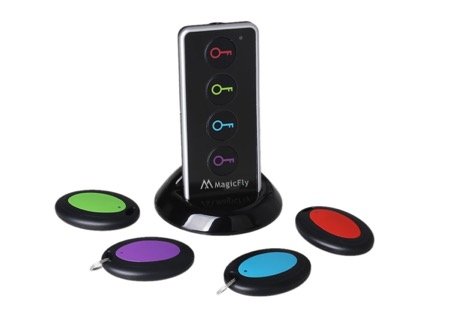 Losing keys is common among all age groups, and forgetfulness accelerates as you get older. With the Magicfly Key Finder, by strapping a color coded locator on an item, you can press a button on the central device, and a tune will play which indicates the misplaced item's location. This is very useful for situations when Grandma has lost something, and will reduce the effort required to find things. This highly accessible solution comes with four tags, allowing you to attach to and discover four different misplaced items.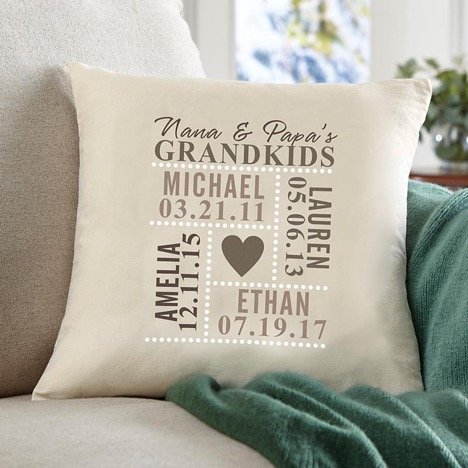 Another personalized option, the throw pillow enables the purchaser to add names and dates of their choice. Presented with a stylish design, Nan will be amazed by the personal touch, and you'll always stay close to her with your name on this comfortable cushion.
Heart Full of Love Glass Block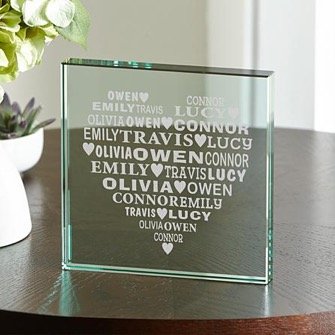 With the Heart Full of Glass Block, you can add names and customize the stylish surface to create a present which oozes class. At just $29.99, this is an affordable option that will make Nan proud you're her Grandchild. Though presents don't buy love, they are a great way of showing how much you care, and though I'm sure she's proud of you already, the chances are this present will consolidate her feelings.
I hope you have found this article useful, and have a better idea of what to buy for Grandma at Christmas. This is a decision which shouldn't be neglected, where it's easy to forget the significance of important family members. If you have any gift ideas you'd like to share, have any questions, or would simply like to become part of the conversation, please comment below and kick-start the discussion.
comments powered by

Disqus